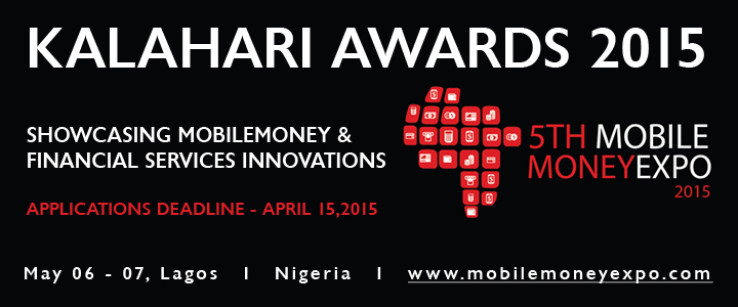 The Kalahari Award is established and dedicated to acknowledging creativity, commitment and excellence in the mobile and financial services ecosystem in Africa. The 5th Kalahari award nomination is now open and winners will be announced at the 5th MobileMoney Expo in Lagos - Nigeria on May 06-07, 2015. www.mobilemoneyexpo.com
The award is given to organizations or individuals that have made significant contributions to the mobile financial sector and are poised to make considerable market impact in the future.
The awards are decided by an independent panel of expert judges based on a number of criteria including: Geographic market penetration, on-going and evidence of commercial campaigns, regulatory compliance where necessary, cross sector partnerships, active deployments and future potentials for further growth.
To nominate an organization or individual for this award, please visit http://mobilemoneyexpo.com/kalahari.
Entries are free and can be submitted directly by the organisation or partners via the event website: http://mobilemoneyexpo.com/kalahari. All entries must be received by 6pm (GMT), Wednesday, 15 April 2015.
For partnership, speaking and sponsorship of the 5th MobileMoneyExpo event contact:
emmanuel@mobilemoneyafrica.com