Nigeria
Walk The Talk Event by MPAC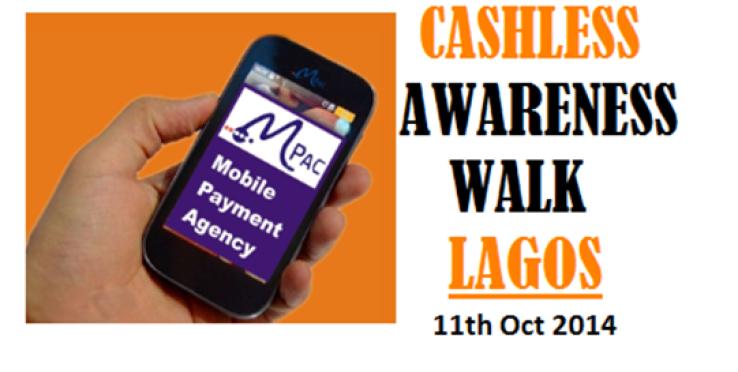 Speech by Gbemi Adelekan.
President – Mobile Payment Agency Coop (MPAC).
Mobile Money has recorded huge success in various African Countries including Kenya, Tanzania and South Africa. A Country like Ghana which introduced Mobile Money recently is also starting to feel the positive impact in its economy. This cannot be said of Nigeria despite the launch by the Central Bank some four years ago, the use of Mobile Money as a cashless means of transacting financial transaction is yet to fully take off despite the massive population of Nigeria, over 160 million and over 120 million active Phone subscriptions.
I must stress that Mobile Money channel is being accepted as a means of payment slowly but we still have a long way to go. The rate of adoption of mobile money is still low when you compare the benefits and great potential for the service which is very high, as seen in the adoption in other countries .There are some pertinent issues still affecting the mass acceptance and use of the Mobile Money Cashless medium in Nigeria, despite some achievements but it is not just enough to encourage its use as a payment platform.
Currently, Mobile Money is mainly used for Airtime top-upand payment of some utilities including PHCN, Cable subscriptions and the likes. Most of the successes achieved in Mobile Money in Nigeria involves fund transfers by Users with Bank Accounts. Mobile Money as a cashless means for financial transaction is much more than this. It needs to be used more for payment and transfer of money by both banked and the unbanked. We need to include the over 80million Unbanked people in Nigeria (according to EFina) in the financial sector with the use of Mobile Money. Majority of the unbanked already own a Mobile Phone so why are they financially excluded?
The people in the remote areas including villages,who make up majority of our population, are excluded because they do not have access to Bank Accounts. The use of Mobile Money that can serve as a Mobile Wallet on their Mobile Phonesis not yet available to them. They still use cash for all their financial transactions rather than loading their mobile phone wallet to serve as a bank to save, withdraw and remit funds and pay for goods and services. Until the Major Mobile Money Operators develop this aspect of theirservices (cash in, cash out) theneeded masstake-off of the services by majority of Nigerians may not happen soon.
The issue of confidence in the use of the Mobile Money technology needs to be addressed by the Mobile Money Operators to ensure that the use of Mobile Money as a means of cashless transactions is seamless. The inability of customers to complete financial transactions with their mobile phone due to the instability of some mobile money infrastructure is a put off for existing Users and would be customers alike. I must admit that most of the Operators have already resolved some of these issues but more needs to be done. We do not want to discourage people from the start, if the system is not stable and reliable. As we say in Nigeria, 'Money matter is a difficult matter' so customers do not want to mess around when the business relates to financial transactions.
As the President of a group of Mobile Money Agents, we are aware that the level of awareness for the use of Mobile Money needs to be increased radically to enable take-off and for this ecosystem to be more viable for all involved. What do I mean by that? We need to spread the immense benefit of using this payment channel to prospective customers and Agents alike. With this, more people would be aware with more Mobile Money Agents coming on-board to deliver Mobile Money services to customers.
This can be done with more Mobile Money Agents around the Country. We have mentioned to various MMO (Mobile Money Operators) times without number that they need to support Super Agents like MPAC, to spread the benefits of Mobile Money and recruit and train more Agents who will in turn encourage more people to use the system. We have noticed that those who are also aware of Mobile Money need a known individual next door or the regular shop attendant in a convenience shop or someone they can trust, to show them the use of Mobile Money before they can make up their mind to use the channel. In order to increase the use of Mobile Money, more Mobile Money Agents are required in the Ecosystem. We need more Super Agents in the System who will recruit more Agents who will operate under them, to develop the services.
This is where MPAC, the Mobile Payment Agency Cooperative will come in. We are a group of Super Agents and Agents working under a Cooperative model, to represent various Mobile Money Operators to sell the services of Mobile Money to the populace. MPAC was established over 3 years old as an Aggregator/Super-Agent in the Mobile Money Ecosystem. We are not exclusive to any Operator and our Agents sell the services of various MMO (Mobile Money Operators).Our aim is for people to walk into any shop that is a member of MPAC and the customer can use any of the various Mobile Money Operators to transact business, be it Fortis Mobile, PAGA, EcoMobile, etc.
We also try to ensure sustainability of our members through Financial Intermediation and have access to cheap source of fund from the Cooperative for Agency expansion . This 'Walk the Talk' sensitisation Event is the 3rd national Event embarked on by MPAC to increase the awareness of Mobile Money as a payment channel.
Our Cooperative, which is the first of its kind in Africa, has Agent members in more that 10 States of Nigeria but much more still needs to be done to increase awareness for more Users to use the Mobile Money Platform. We need support from the Providers and Operators to improve on the Agent recruitment drive of Super Agents like MPAC. Agents also need to have the right incentive to market Mobile Money as one of the payment channels compared to the use of cash. The services available on Mobile Money platforms in Nigeria need to be increased to encourage people to use the platform. We want to improve our agency activities by embarking on a drive for our Agents to carry out for Cash in, Cash out activities to improve their business transactions using the Mobile Money channels
The support required is not necessarily financial but support in Marketing and promotion of service to the people in various nooks and corners of the Country. Our Cooperative, the Mobile Payment Agency Cooperative, have recruited members in more than 10 states of Nigeria but much more needs to be done. We need support from MMO in terms of Road Show and promotion of the services to Prospective Agents and final users for cashless financial transactions. . We are also embarking on the expansion of our Agency Network through signing more Agents within or at least close to the Rural Areas .
The agency cooperative though novel in Africa helps agents to develop capacity to deliver services to customers. The Cooperative helps Agents to understand their important role in the Ecosystem to positively impact the whole ecosystem. The Cooperative through its individual super-agent members work daily to improve float availability and liquidity of its Agent members, risk management to ensure business and agency sustainability despite the low take-up of customers in some areas of the Country.
We appreciate the effort of the Central Bank of Nigeria on the market sensitization carried out in the various states on the cashless policy. Although this sensitization must be ongoing more emphasis must be given to Mobile Money as one of the electronic payment platform as most people, although aware of cashless channels only think of Cards and Online payment.
The Government needs to do more in terms of awareness of the use of Mobile Money as a cashless medium of financial inclusion in the economy. More grants and payment from the Government should be dispensed into the mobile money wallets of beneficiaries. This would help with transparency and reduction in corruption and misuse of public funds. The Government and the regulators need to 'Walk the talk' by doing more in the area of awareness and use of mobile money mediums as one of the payment channelsfor cashless financial transactions.
We continue to hear major stakeholders in the industry giving various reasons for majority of the unbanked not using Mobile money. We have mentioned that giving the right support and collaboration with Super Agents and Aggregators like MPAC, Super Markets, Micro Finance Institutions and the likes, more Mobile Money Agents would be recruited in close proximity to the ultimate users of the cashless services. The Agents will be able to spread the benefit of mobile money and assist Customers to register and use the facility. All stakeholder need to 'walk the talk' by collaborating with established bodies like MPAC to recruit and manage Agents who will in turn encourage people to use Mobile Money servicesin both the formal and informal sector of the economy.