Nigeria
Paga Records Three Million Users on Mobile Money Platforms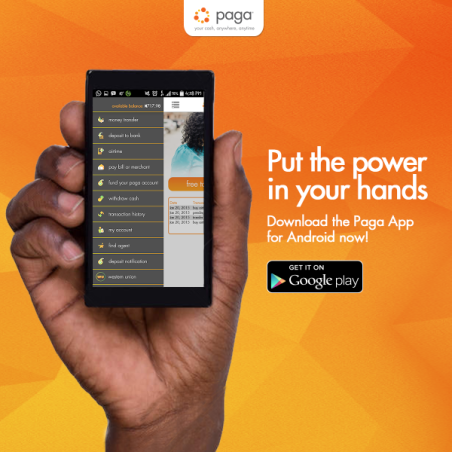 Paga, one of the country's leading payments company has announced a significant rise in the adoption of its services, revealing that over three million users now use its agent and online/mobile payment channels to send and receive payments.

A statement from the company at the weekend quoted Paga's Founder/CEO, Tayo Oviosu, to have attributed the rapid growth to understanding the unique challenges faced by Nigerians looking for a simpler way to make payments.
"For my team and I, the issues around payments are far reaching. It goes past being able to move money from point A to B. In six years Paga has been in operation, we have developed a relationship with our customers. We hear their stories and we know that every transaction that occurs on our platform is more than just money. It's someone trying to pay for something in a less stressful way.
"Whether it's paying for a TV subscription; child's school fees; a visa; people buying airtime to stay connected to the ones they love or a new business finally being able to accept payments from its customers," he added.
Founded in 2009, the company remains focused on building a payments ecosystem that can be leveraged by banks, businesses, and consumers. Paga's agent network is at the core of that ecosystem. Paga now has over 8,300 agents in 35 states – the largest and most active network in Nigeria. The agents are locations where people can comfortably go in to make payments within their community.
On what next for Paga and the future of mobile payments, the company's Co-founder and Director of Business Development, Jay Alabraba said: "We believe strongly that accessibility still has a big role to play in the future of mobile payments and financial inclusion. With the unique challenges around connectivity in Nigeria, having a viable agent network remains key to ensuring that every Nigerian, irrespective of their location has access to finance.
SOURCE:THISDAY